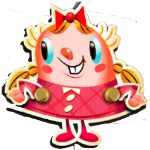 Tiffi, Abbreviation of Toffette, is the main protagonist in Candy Crush Saga. She is a seven-year-old girl with blonde hair and blue eyes. She is a controlled puppet with golden nails (clasps) that connect her arms to her shoulders. She helps the various pets that she meets during the course of the game, at the beginning of the episode, she asks them what is wrong, after that, she finds a way to help them. In the episode Shores Savory, Tiffi meets her submarine double Juli. In Sweet Surprise, after level 215, all the previous characters join each other with Tiffi. Upon completing a level, Tiffi becomes happy. If the level is completed with three stars, she becomes even happier (However, her expression is the same in the iOS and Android versions), although she cries if a level is lost.
Summary
1 Family
2 Physical Appearance
3 Style
4 Personality
5 Common Phrases
6 Curiosities
7 Work
8 Fun Facts
9
Family
Tiffi has an underwater twin in episode 22, Savory Shores and Coral Corral. Her name is Juli.
Physical appearance
Tiffi has blonde hair in two ponytails. She has a barrentina shaped face that is very flexible. His chin is as wide as his neck. She has gigantic eyes, which extend from her forehead to her cheeks. She has no eyebrows or eyelashes, so maybe that's the reason why she has a lot of tears streaming from her eyes. His nose is also large, located right in the middle of his eyes. She has rosy cheeks and gets emotional when she smiles. Her mouth is not small, so when she gets happy, her mouth extends from her chin to her forehead. His sad face is also exaggerated using his mouth. Their teeth are big, even bigger than their cheeks. Its neck is very small, making it almost impossible to distinguish it from the rest of its body. She is very short, more than twice as short as Mr. Toffee. This is normal since she is very young. She is chubby and her legs are short and pink. Tiffi will present the Ingredients Levels saying "This is an Ingredients Level: Bring all the ingredients down & reach the target score to clear the level." level) and "Bring down all the ingredients to the bottom!" (Bring all the ingredients to the bottom!)
Style
She has a red bow on the top of her head. She is wearing a pink dress and her shoulders are not moving. He also wears pink shoes.
At Savory Shores, Tiffi wears an underwater mask and a diver to breathe.
In Munchy Monolith, at the end of the episode, he wears a shaman's hat and casts a shaman's spell to repair the piñata.
At Pudding Pagoda, he wears a gym band on his head as he engages in a sword fight against the Bubblegum Troll.
In Licorice Tower, wears a detective hat in search of the missing guard's Candy Jewels.
At Soda Swamp, he wears a baseball cap. At Butterscotch Boulders, he wears a cowboy hat.
At Cereal Sea, he wears a sailor hat.
She wears a turban when she lures the snake away from the bananas in Taffy Tropics.
In Sleepy Slopes, she wears a nightcap.
In Nerdy Nebula, she wears a different outfit consisting of a purple cape and pink-rimmed glasses, although her hairstyle and footwear remain the same, but her face looks different.
In Sparkle Submarino, he wears the same clothes as in Cereal Sea.
In Sweet Dreams, she wears a party hat.
She wears a purple afro wig and star-shaped sunglasses in Funky Fortress.
At Coral Corral, he wears a cowboy hat, like the one he wore at Savory Shores.
Tiffi also wears a shaman hat in Zany Ziggurat, but the hat looks different from the one she wears in Munchy Monolith. This one has two layers of feathers instead of one, also ornaments in the shape of a crescent.
In Moonshot Molars, he wears a helmet.
At Bonkers Bakery he wears a chef's hat.
Personality
His personality is too simple, sometimes naive (when the player does not pass the level, he is surprised first, and then cries with great pain). Also when the level is passed, he becomes happy and smiles. Hopefully, you hear little memes about her. She also becomes very sad when her candies are being stolen, as shown in the episode Bubblegum Bridge. She is very helpful because she helps to fix the problem that a character faced in almost every episode. In general, she is very happy when she can help people.
Common phrases
"What's this?" (What is this?)
Curiosities
On Candy Crush Saga's official Facebook page, it was revealed that her birthday is January 23rd.
As a result, her zodiac sign is Aquarius.
Did you know that, next Friday, November 17 of this year 2017, Tiffi will appear on the Montserrat school excursions? Sabelo, Thursday, November 9, 2017 at 18:00 Tiffi will arrive in Buenos Aires Argentina. Article published by: Friends of Franco Montserrat and Grupo de Aconcagua, Josué and Marcos
Job
Tiffi will arrive in Tandil on Monday, December 4, 2017 when the morning starts and just in case, she will go to the pile and meet the boys of the morning and afternoon 6th of montserrat. Montserrat 2019
Your job is to help your friends
Fun facts
Tiffi sucks wearing a maid uniform.
She finds Ingredients Levels as her favorite level type.
Main article: Tiffi /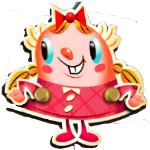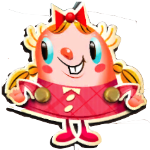 Click on this image to go to this character's gallery.