| Realidad | Dream world | Guide | Versions |
| --- | --- | --- | --- |
2 level
Episode
Candy Town
Level type
movements
Target score
: 1.900 points
Blockers
None
Number of candies
6

Number of spaces
73
Difficulty
Very easy
levels
Previous
1 level
Present
2 level
Next
3 level
El 2 level It is the second level in Candy Town and the second level of movements. To complete this level, you must score at least 1.900 points in just 15 moves. Upon completion of the level, the Sugar Crush will be activated.
This is a tutorial level that will teach you how to make striped candies and wrapped candies, and also shows the effect of combining these special candies.
Summary
1 Difficulty
2 stars
3 Strategy
4 Getting 3 stars

4.1 Reason
4.2 Possible strategy

5 Curiosities
6 Tutorial
Difficulty
There is no difficulty if it is your first time to play this level if you are new to Candy Crush Saga.
It is possible to leave this level if you combine 3 by 3 candies without using any special candies or any automatic combination (15 moves x 60 points per move = 900 points, which is 1.000 points less than one star from the target score). However, it is still easy to pass this level if you create special candies. Moreover, it is also easy to get 3 stars at this level.
Stars
| | | | |
| --- | --- | --- | --- |
| Stars | | | |
| Points | 1.900 | 2.100 | 2.400 |
| Difficulty | Very easy | Very easy | Very easy |
Strategy
As long as players have combos and constantly create special candies, there is no chance of failing this level.
To score as many points as possible, combine a color bomb with a wrapped candy.
Try to make special candies as it will help you.
Getting 3 stars
difficulty: Very easy.
difficulty: Very easy.
Reason
The presence of six candies makes it difficult to create special candies. However, considering that it is played on a large board, combos occur frequently. Also, there will be at least a chance of having four or five which in turn gives a special candy, further increasing the score.
The player is required to earn at least 160 points per move (2400 points / 15 move = 160 points per move).
Possible strategy
If you get a color bomb and a wrapped candy in addition to one, combine them for a score boost.
Curiosities
It is the first level where you can fail normally (because the only way to fail at Level 1 is by pressing the exit button).
Tutorial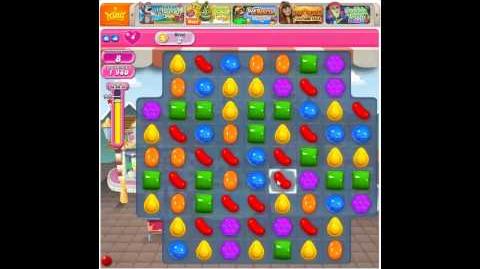 The Reality - Candy's Kingdom
World 1
| | |
| --- | --- |
| Candy Town | Level 1 • 2 level <br>• Level 3 • Level 4 • Level 5 • Level 6 • Level 7 • Level 8 • Level 9 • 10 level |
| | |
| --- | --- |
| Candy Factory | Level 11 • Level 12 • Level 13 • Level 14 • Level 15 • Level 16 • Level 17 • Level 18 • Level 19 • 20 level |
| | |
| --- | --- |
| Lake of Limonada | Level 21 • Level 22 • Level 23 • Level 24 • Level 25 • Level 26 • Level 27 • Level 28 • Level 29 • Level 30 • Level 31 • Level 32 • Level 33 • Level 34 • 35 level |
| | |
| --- | --- |
| Chocolate Mountains | Level 36 • Level 37 • Level 38 • Level 39 • Level 40 • Level 41 • Level 42 • Level 43 • Level 44 • Level 45 • Level 46 • Level 47 • Level 48 • Level 49 • Level 50 |
| | |
| --- | --- |
| Lollipop Forest | Level 51 • Level 52 • Level 53 • Level 54 • Level 55 • Level 56 • Level 57 • Level 58 • Level 59 • Level 60 • Level 61 • Level 62 • Level 63 • Level 64 • Level 65 |
| | |
| --- | --- |
| Easter Bunny Hills | Level 66 • Level 67 • Level 68 • Level 69 • Level 70 • Level 71 • Level 72 • Level 73 • Level 74 • Level 75 • Level 76 • Level 77 • Level 78 • Level 79 • Level 80 |
World 2
| | |
| --- | --- |
| Bubble gum bridge | Level 81 • Level 82 • Level 83 • Level 84 • Level 85 • Level 86 • Level 87 • Level 88 • Level 89 • Level 90 • Level 91 • Level 92 • Level 93 • Level 94 • Level 95 |
| | |
| --- | --- |
| Salty cannon | Level 96 • Level 97 • Level 98 • Level 99 • Level 100 • Level 101 • Level 102 • Level 103 • Level 104 • Level 105 • Level 106 • Level 107 • Level 108 • Level 109 • Level 110 |
| | |
| --- | --- |
| Mint palace | Level 111 • Level 112 • Level 113 • Level 114 • Level 115 • Level 116 • Level 117 • Level 118 • Level 119 • Level 120 • Level 121 • Level 122 • Level 123 • Level 124 • Level 125 |
| | |
| --- | --- |
| Pier | Level 126 • Level 127 • Level 128 • Level 129 • Level 130 • Level 131 • Level 132 • Level 133 • Level 134 • Level 135 • Level 136 • Level 137 • Level 138 • Level 139 • Level 140 |
| | |
| --- | --- |
| Gingerbread Forest | Level 141 • Level 142 • Level 143 • Level 144 • Level 145 • Level 146 • Level 147 • Level 148 • Level 149 • Level 150 • Level 151 • Level 152 • Level 153 • Level 154 • Level 155 |
World 1
| | |
| --- | --- |
| Candy Town | Level 1 • 2 level <br>• Level 3 • Level 4 • Level 5 • Level 6 • Level 7 • Level 8 • Level 9 • 10 level |
| | |
| --- | --- |
| Candy Factory | Level 11 • Level 12 • Level 13 • Level 14 • Level 15 • Level 16 • Level 17 • Level 18 • Level 19 • 20 level |
| | |
| --- | --- |
| Lake of Limonada | Level 21 • Level 22 • Level 23 • Level 24 • Level 25 • Level 26 • Level 27 • Level 28 • Level 29 • Level 30 • Level 31 • Level 32 • Level 33 • Level 34 • 35 level |
| | |
| --- | --- |
| Chocolate Mountains | Level 36 • Level 37 • Level 38 • Level 39 • Level 40 • Level 41 • Level 42 • Level 43 • Level 44 • Level 45 • Level 46 • Level 47 • Level 48 • Level 49 • Level 50 |
| | |
| --- | --- |
| Lollipop Forest | Level 51 • Level 52 • Level 53 • Level 54 • Level 55 • Level 56 • Level 57 • Level 58 • Level 59 • Level 60 • Level 61 • Level 62 • Level 63 • Level 64 • Level 65 |
| | |
| --- | --- |
| Easter Bunny Hills | Level 66 • Level 67 • Level 68 • Level 69 • Level 70 • Level 71 • Level 72 • Level 73 • Level 74 • Level 75 • Level 76 • Level 77 • Level 78 • Level 79 • Level 80 |
World 2
| | |
| --- | --- |
| Bubble gum bridge | Level 81 • Level 82 • Level 83 • Level 84 • Level 85 • Level 86 • Level 87 • Level 88 • Level 89 • Level 90 • Level 91 • Level 92 • Level 93 • Level 94 • Level 95 |
| | |
| --- | --- |
| Salty cannon | Level 96 • Level 97 • Level 98 • Level 99 • Level 100 • Level 101 • Level 102 • Level 103 • Level 104 • Level 105 • Level 106 • Level 107 • Level 108 • Level 109 • Level 110 |
| | |
| --- | --- |
| Mint palace | Level 111 • Level 112 • Level 113 • Level 114 • Level 115 • Level 116 • Level 117 • Level 118 • Level 119 • Level 120 • Level 121 • Level 122 • Level 123 • Level 124 • Level 125 |
| | |
| --- | --- |
| Pier | Level 126 • Level 127 • Level 128 • Level 129 • Level 130 • Level 131 • Level 132 • Level 133 • Level 134 • Level 135 • Level 136 • Level 137 • Level 138 • Level 139 • Level 140 |
| | |
| --- | --- |
| Gingerbread Forest | Level 141 • Level 142 • Level 143 • Level 144 • Level 145 • Level 146 • Level 147 • Level 148 • Level 149 • Level 150 • Level 151 • Level 152 • Level 153 • Level 154 • Level 155 |